Freedom Train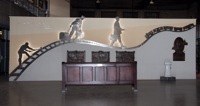 The overall installation consists of several components and materials. First, on the top left hand corner of the wall is a 4 ft x 1.5 ft bronze word plaque that will show lines from the poem, "Freedom Train," by Langston Hughes.
Flat against the wall, running in a curving manner from the lower left corner to the top right corner is a flat, aluminum, silhouetted train track and train. The track is a timeline and above the track are 3 stainless steel silhouettes with wall space in between. From left to right they are of a slave building the track, a porter carrying luggage, and a businessman holding a train ticket. The silhouettes are intended to attract immediate attention by communicating the dramatic yet simple message of African Americans' progression from slave to porter to businessman. A progression of attitude is also expressed in the body language of each, the slave's head and body facing downward, the porter more upright but still hunched over, and the businessman with head and shoulders held high. They are 6 inches out from the wall, held by steel bracing and lights are installed behind each for backlighting.
Below the train track are 4 sculpted bronze plaques that range in size from 3 feet x 2 feet to 5 feet x 2 feet. These provide specific visual and historical information about (1) Garfield Thompson, (2) the segregated benches (3) the segregated ticket counter, and (3) black railroad workers in Fort Worth's history. The style of the plaques is befitting of the strong art deco influences of the T&P building. Each plaque has an art deco border around it that is cast in bronze as part of the plaque and that incorporates the motifs from the moldings in the actual colored waiting room. Wording is also cast into the plaques to communicate their messages. All textures and shapes are crisp and smooth to enhance the art deco feel. The bronze coloration, juxtaposed with the stainless steel silhouettes, mimics the gold and silver colors in the moldings of the actual colored waiting room.
The wall itself shows between and around the other elements and is used as part of the overall design. The existing stucco texture is maintained, except that the lines etched into the wall and holes where current light fixtures exist will be filled in. The wall will then be painted yellow, orange, and blue/grey as according to drawing.
One of the actual restored benches from the colored waiting room sits facing the wall with ten feet of space in between. This bench is 18.5 feet long and will provide both a place for viewers to sit and study the wall, as well as a formalized area around the wall.
[
View Pictures
]
---
More Images
[Click to enlarge]